ARC Reviews by Jude: Squared Away; Tight Quarters & Rough Terrain by Annabeth Albert
So this post is a sort of love letter to Annabeth Albert and a semi-confessional example of my longstanding relationship with her books.
Tragically it is also an example of what happens when you try to be a book reviewer during a very, very busy time in a PhD process.
Simply said, I owe some reviews. In the time since I took a semi-hiatus from reviewing, not only did Annabeth finish her Out of Uniform series, but began a new one, the Frozen Hearts Series. I'll be reviewing the books I've read from each series separately. So for fans or future fans of the Out of Uniform series, which I highly recommend, here are reviews for the final three books in the series. If you haven't read these books, I am including a note in each that tells you if that book can work as a stand alone or an entry into the series or not. I believe I've reviewed every book in this series, so if you want to know more about the first 4, the tags should help you find them.
**All books were provided by NetGalley in exchange for an honest review**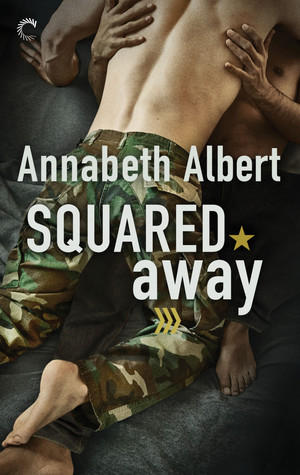 In the wake of tragedy, SEAL Mark Whitley rushed stateside to act as guardian to his sister's three young children. But a conflicting will could give custody to someone else—someone Mark remembers as a too young, too hot, wild party boy. Even after six years, Mark can't shake the memory of his close encounter with Isaiah James, or face up to what it says about his own sexuality.
Isaiah's totally over the crush that made him proposition Mark all those years ago. In fact, he's done with crushing on the wrong men altogether. For now, he's throwing himself into proving he's the best person to care for his cousin's kids. But there's no denying there's something sexy about a big, tough military man with a baby in his arms.
As the legal details get sorted out, their long-buried attraction resurfaces, leading to intimate evenings after the kids are tucked in. A forever future is within reach for all of them, if only Mark can find the courage he needs to trust Isaiah with his secrets—and his heart.
Goodreads | Carina Press | Amazon
Release Date: April 16, 2018
4 stars
I am honestly FLOORED that I haven't written this review because this is one of my favorite books in the Out of Uniform series. This book really takes us out of the actual military (we to get to see and experience some! It's not totally gone) and really puts us into family life. This is something I loved about At Attention. I really feel as though Albert shines when writing family centric stories.
There are a couple of things that the author does in this book that make it a stand out to me: the depiction of the ways all of the family members experience and work through their grief, the depiction of Mark's sexuality, and the ups and downs of trying to make a new family.
I did really appreciate the way in which Albert handled Mark's sexuality. The discussions with Isaiah as they were first falling into an intimate relationship — the ways in which Mark's previous attempts at relationships and the pressure of expectation to want/have sex and intimacy in a singular way socially defined as "normal" resonated on a personal level. And Isaiah really gets an A+ from me, because it's not even like he's struggling to come to terms with it, or that any part of Mark's sexuality is a bad thing or a hindrance. He just rolls with it; he opens lines of communication with Mark from the get go. He supports and accepts and together they learn to navigate what intimacy means for the two of them. I loved that.
As someone who has experienced profound grielf (and since then has even more after my mom passed away last year) I did like the moments when we got to see the ways in which the whole family, kids included, worked through their grief. This is an aspect of a story that can easily become overworked or be overwritten; worse, I've seen this kind of story written with tragic death so transparently treated as a poor plot device. This book doesn't fall into either of those traps.
I will admit that the ending of the book and the resolution of their relationship felt rushed to me. I was also at times frustrated by the lack of communication on both of their parts re: the adoption of the kids. But I loved the rest of the book so much that it easily made up for this.
I definitely recommend this book. I feel like it could even work as a stand alone, or even a book that hooks you into the series.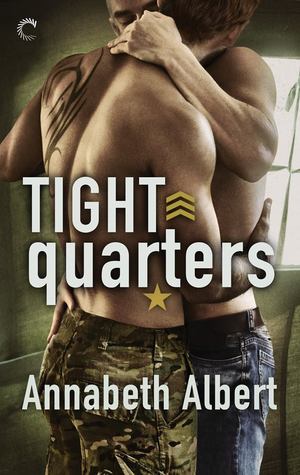 Petty Officer Bacon, a navy SEAL and ace sharpshooter, has been on the front lines of more than his fair share of dangerous ops. Yet when a minor injury relegates him to the beta team, he's tasked with what may be his riskiest assignment yet: the silver fox journalist he's babysitting is the hottest, most charismatic man he's ever encountered.
Award-winning journalist Spencer Bryant may have been named one of Pride magazine's most eligible bachelors of the year, but he's not looking to change his relationship status. He's a consummate professional who won't risk his ethics or impeccable reputation by getting involved with a source. Even a sexy-as-hell military man. But while Spencer can resist his physical attraction to Bacon, he has less control over his emotions—especially when the mission goes sideways and the two men are trapped alone.
Getting out of the jungle alive turns out to be easy compared to facing the truth about their feelings for one another back in the real world. And whether or not they can build a future is a different story altogether.
Goodreads | Carina Press | Amazon
Release Date: July 19, 2018
3.75 Stars
There are some shinning moments in this book that, for me, make it a must read in the series. First, Bacon. Bacon is an absolute gem of a character. His personality jumped off of the page for me, and I wish we could have gotten a lot more of him in the previous books. I know he appears in many — this is simply me being greedy.
While I do appreciate that Albert has given us a pansexual character, when I began this book I worried that sexual identities were becoming a trope in the series. It's hard to explain, and perhaps this is because I read this book in such close concert with the previous book, featuring an ace character, I was trepidatious about this.
I can't speak to the accuracy of the depiction of his sexuality as any sort of expert, as I do not identify as pansexual, but I think Albert did a good job here (if not, please feel free to let us know because we are always open to conversation and learning more). I loved Bacon's backstory and really, really felt for both him and his first love, Jamie; Bacon's grief felt really well handled to me.
I think that this is one of the books where Albert handles obstacles standing in the characters path to getting together really well. It can be hard with books like this, particularly series books, for this aspect of a plot not to feel repetetive or contrived, but in the case of these two, the things separating them (Spencer's journalistic integrity and Bacon's job) were real obstacles. It could be easy to say that Spencer should have just thrown away the story idea for Bacon, but the truth is that in real life, when you aren't sure where a relationship is going, when you've been burned, and when your career has meant everything to you, answers aren't as black or white as one might hope. I really enjoyed Spencer, and I liked his story arc quite a bit, but I won't lie, Bacon was my favorite.
The shifts from Bacon the seal to Del the boyfriend was a little hard for me, mostly because we have so many previous books where we know him as Bacon and also because Del somehow just didn't seem to fit him? It was refreshing to see Del outside of his SEAL idendity, and I do so love a man who will rock eye liner, but it was at times a bit jarring.
One of my absolute favorite aspects of this story was the handling of trauma Del experiences after a particular mission. I think that this element of the story was vital in creating a catalytic moment for both characters in an evaluation of that they needed–not just wanted–for themselves. I really felt for Del here (I actually teared up).
I would definitely recommend this book, but I don't know if I'd recommend it as a starter or stand alone. I think that an investment in finding out more about Bacon, nurtured in previous books, was a large part of the initial draw for me. Then again, I have read these books in order as the series was written, so I'm biased.
Navy SEAL Renzo Bianchi has a soft spot for Canaan Finley, and not only because the man makes a mean smoothie. He's the first guy to get Renzo's motor revving in a long time. But when he agrees to Canaan's insane charade—one all-access fake boyfriend, coming right up—he never expects more than a fling.
Creating a hot Italian SEAL boyfriend to save face seemed like a good idea…until his friends called Canaan's bluff. Now he's setting off into the woods with the very man who inspired his deception, and Canaan is not the outdoorsy type. The sparks are already flying when a flash flood separates them from their group, leaving Renzo and Canaan very much trapped…very much alone in the wilderness.
Working together to come up with a plan for survival is sexier than either of them expects. But back in the real world, being a couple is bringing its own set of hazards…
Goodreads | Carina Press | Amazon
Release Date: January 14th, 2019
3 Stars
While there were some enjoyable moments in this book, I have to admit this might be one of my least favorite in the series. I will say that I have only read it once, and I have before discovered that I like a book much more after a first take, so I am definitely not saying you shouldn't give this one a try. There were plenty of enjoyable moments here for everyone.
First, I had a hard time getting past my initial impression of Canaan from On Point. Which is slightly unfair, but still. I did eventually manage it, but it was a slight obstacle for me.
I do enjoy a fake boyfriends trop when it is well done and I do think that Albert did a good job here. I love the way that she handled the way that the lead singer of Canaan's band did treat him and how that informs who Canaan is now that he's no longer in the band. I loved Canaan's devotion to his grandfather and the way in which his sacrifice–giving up the band as it was on the rise–was a testament to how lovely and loving Canaan is despite his reputation as being a bit of a SEAL chaser.
Rooster and his story–particularly aspects involving his issues with sex and intimacy–fell a bit flat for me. This book in particular felt like an example of a particular story element–why Rooster has issues with sex–which felt like a plot device. Generally I feel like Albert does a great job with approaching and depicting a spectrum of identities and issues with intimacy and sex. This one just did not work for me that much.
I did like the ways in which the author shows us how Rooster wants to move beyond an identitiy he feels boxed into with his fellow SEALs and the ways in which first impressions can really stick with someone; particularly in this case, the ways in which Rooster felt like he had to keep up the image they had of him while also resenting it.
Overall, I think this story fell a little flat for me in a way I can't put my finger on just yet. I think this story could stand alone, but I don't think I'd recommend it as an entry into the series.
Annabeth Albert grew up sneaking romance novels under the bed covers. Now, she devours all subgenres of romance out in the open—no flashlights required! When she's not adding to her keeper shelf, she's a multi-published Pacific Northwest romance writer.
Emotionally complex, sexy, and funny stories are her favorites both to read and to write. Annabeth loves finding happy endings for a variety of pairings and is a passionate gay rights supporter. In between searching out dark heroes to redeem, she works a rewarding day job and wrangles two children.
Website | Twitter | Facebook | Instagram | Goodreads | Amazon
Genre: Contemporary Orientation: Asexual (+ace-spec) Orientation: Bisexual Orientation: Gay Orientation: Pansexual Pairing: M/M Publisher: Carina Press Review Tag: Age-Gap Tag: Military / Uniform Tag: Part of a series Trigger Warning: Physical Assault Trigger Warning: Suicide Annabeth Albert Out of Uniform series Rough Terrain Squared Away Tight Quarters
Jude Sierra is a Latinx poet, author, academic and mother who began her writing career at the age of eight when she immortalized her summer vacation with ten entries in a row that read "pool+tv". Jude began writing long-form fiction by tackling her first National Novel Writing Month project in 2007.
Jude is currently working toward her PhD in Writing and Rhetoric, looking at the intersections of Queer, Feminist and Pop Culture Studies. She also works as an LGBTQAI+ book reviewer for Queer Books Unbound. Her novels include Hush, What it Takes, and Idlewild, a contemporary queer romance set in Detroit's renaissance, which was named a Best Book of 2016 by Kirkus Reviews. Her most recent novel A Tiny Piece of Something Greater was released in May of 2018. Shadows you Left, a co-written novel with Taylor Brooke will arrive spring of 2019 from Entangled Press.
Twitter: @JudeSierra
Website: judesierra.com
Instagram: /judemsierra/
Newsletter: http://eepurl.com/de5FQT