ARC Review by Jude: An Unsuitable Heir by K.J. Charles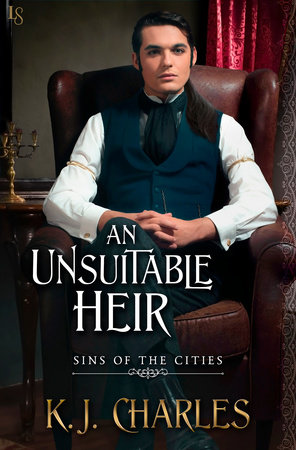 On the trail of an aristocrat's secret son, enquiry agent Mark Braglewicz finds his quarry in a music hall, performing as a trapeze artist with his twin sister. Graceful, beautiful, elusive, and strong, Pen Starling is like nobody Mark's ever met—and everything he's ever wanted. But the long-haired acrobat has an earldom and a fortune to claim.
Pen doesn't want to live as any sort of man, least of all a nobleman. The thought of being wealthy, titled, and always in the public eye is horrifying. He likes his life now—his days on the trapeze, his nights with Mark. And he won't be pushed into taking a title that would destroy his soul.
But there's a killer stalking London's foggy streets, and more lives than just Pen's are at risk. Mark decides he must force the reluctant heir from music hall to manor house, to save Pen's neck. Betrayed by the one man he thought he could trust, Pen never wants to see his lover again. But when the killer comes after him, Pen must find a way to forgive—or he might not live long enough for Mark to make amends.
Penguin and Random House / Amazon
Goodreads
*I received a free copy of this book via Netgalley
4 Stars
An Unsuitable Heir is a satisfying end to a well written and enjoyable trilogy (The Sins of the City). I enjoyed that this series broke some conventions — while we follow three separate couples, all of whom move in the same social circle, three of whom were friends prior to the beginning of the book — the overarching plot doesn't travel exactly linearly. That is to say, while the driving force of the mystery moves forward with each book, the timelines of the book overlap in places. This is fantastic because Charles lays the groundwork for each book in the previous skillfully. For example, we didn't always wonder what was going on in Nathaniel's life (or realize how relevant it was) in An Unseen Attraction from Clem's perspective (other than observations). Or, from another angle, we were seeing interactions of other characters in each book through different lenses. Getting to see the stories unfold at similar points on a timeline in different books is the ultimate guilty pleasure — getting to know the "what if" and the "what about". Reading each book was a delicious indulgence of that moment when you have a favorite side character in a show or movie and daydream about their life; only Charles is the one indulging and gifting us.
That said, I was incredibly curious to know more about Mark. Unlike Nathaniel, it was hard to tell what more there was to his story I really wanted before this book came out. I wanted a lot of Pen's story, but in an undefinable way — we hardly knew him, so it was a general curiosity.  I am glad we got to know them both, and I think Charles did a really thoughtful job with tying their stories (and by this I mean, Pen and Mark's histories and the stories of their bodies, which are important) together. Mark's no-nonsense demeanor became much more nuanced while always remaining the same: they were who they were, which served him in seeing Pen, really seeing them, and honoring their truth. Their intimacy and Mark's respect for Pen's dysphoria.
That said, I really heartily disagree with the choice Mark made halfway through the novel. REALLY. I felt like that got resolved a little too easily, and that Mark really bent to Nathaniel's insistence that things just had to be a certain way — which I got because Nathaniel was protecting Justin. But more communication would have really gotten them to a happier resolution much sooner. And by happier, I don't even mean happily ever after, but one in which Pen didn't almost get sacrificed at the cost of everyone else solving a mystery and needing an heir.
I did enjoy this book, and I would encourage anyone who enjoys historical romance to check these books out.
Genre: Historical Genre: Mystery Identity: genderqueer / genderfluid identity: non gender conforming Orientation: Gay Orientation: Pansexual Pairing: M/M Publisher: Loveswept Review Tag: Art / Artist Tag: Part of a series An Unsuitable Heir KJ Charles Sins of the Cities
Jude Sierra is a Latinx poet, author, academic and mother who began her writing career at the age of eight when she immortalized her summer vacation with ten entries in a row that read "pool+tv". Jude began writing long-form fiction by tackling her first National Novel Writing Month project in 2007.
Jude is currently working toward her PhD in Writing and Rhetoric, looking at the intersections of Queer, Feminist and Pop Culture Studies. She also works as an LGBTQAI+ book reviewer for Queer Books Unbound. Her novels include Hush, What it Takes, and Idlewild, a contemporary queer romance set in Detroit's renaissance, which was named a Best Book of 2016 by Kirkus Reviews. Her most recent novel A Tiny Piece of Something Greater was released in May of 2018. Shadows you Left, a co-written novel with Taylor Brooke will arrive spring of 2019 from Entangled Press.
Twitter: @JudeSierra
Website: judesierra.com
Instagram: /judemsierra/
Newsletter: http://eepurl.com/de5FQT