ARC Review by Laura and Jude: An Unnatural Vice by K.J. Charles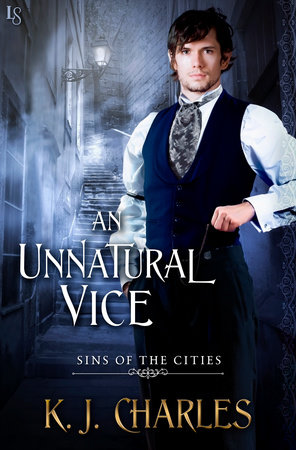 In the sordid streets of Victorian London, unwanted desire flares between two bitter enemies brought together by a deadly secret.
 
Crusading journalist Nathaniel Roy is determined to expose spiritualists who exploit the grief of bereaved and vulnerable people. First on his list is the so-called Seer of London, Justin Lazarus. Nathaniel expects him to be a cheap, heartless fraud. He doesn't expect to meet a man with a sinful smile and the eyes of a fallen angel—or that a shameless swindler will spark his desires for the first time in years.
 
Justin feels no remorse for the lies he spins during his séances. His gullible clients simply bore him. Hostile, disbelieving, utterly irresistible Nathaniel is a fascinating challenge. And as their battle of wills and wits heats up, Justin finds he can't stop thinking about the man who's determined to ruin him.
 
But Justin and Nathaniel are linked by more than their fast-growing obsession with one another. They are both caught up in an aristocratic family's secrets, and Justin holds information that could be lethal. As killers, fanatics, and fog close in, Nathaniel is the only man Justin can trust—and, perhaps, the only man he could love.
This is the second book in KJ Charles' Sins of the Cities series.
An Unseen Attraction: Laura's review /  Jude's review
Goodreads / Amazon
Both received a copy of this book via NetGalley
Five Stars
Look, it's no secret I love KJ Charles; all her books hit me in just the right spots and this one was no exception.
First, even though each book in this trilogy features a different couple, there's a common arc through all of them, so I heartily recommend reading them in order. Besides, An Unseen Attraction is already one of my favourite books I've read this years, and its main characters are still living in my head.
But while An Unseen Attraction was a quiet, friends to lover romance; An Unnatural Vice is one of the best enemies to lovers romance I have ever read. I love how Justin and Nathaniel clash from the beginning and how they play right into each other's hands: Nathaniel trying to discredit Justin, and Justin wanting to make Nathaniel nervous.I won't say much more about the plot, because there's an ongoing mystery that I don't want to spoil for anyone, but I'll say this: I love how KJ Charles weaves everything together and lays down the clues for the readers to find.
I loved Justin, and the ton of research that KJ must have done to get all his medium tricks. I've always been weirdly fascinated by mediums – even if I'm a wimp that can't sleep after watching a horror movie – and the scenes in which we saw Justin working pushed all of my buttons. Bust most of all I loved how being such an anti-hero, KJ Charles has us rooting for him, loving him, and waiting for him to get his happy ending. That is quite a feat.
So if you haven't read An Unseen Attraction, go ahead and start with that one. But if you already have, what are you waiting for? Pick An Unnatural Vice up and you won't regret any minute of it.
---
Five Stars
I really enjoyed the book preceding this one (An Unseen Attraction). But while I liked that one, this one totally blew me away. I will be honest and say that enemies to lovers and angry sex are NOT my thing, so I was pretty nervous going into this one. But I loved the previous one, so I gave it a chance.
I am so thrilled I did, because I loved this book. I loved it enough to send the author a private note about it. I read this book when I was going through a tremendously difficult time (my friend passed away). I could barely bring myself to pay attention to anything, and picked this up hoping it would help me get out of my head a little. Boy, did it ever.
I picked this up and could not put it down. The level of research and detail that went into this book is crazy — I put this book down and immediately started researching the fog event, and then the tricks that Justin uses for his seances. Their chemistry was off the charts and the plot, which is running through all of the books in the series, is pulled off really well. In the previous book I had a hard time with the pacing — I didn't feel that at all here. It was also really nice to get to see Clem from his friends perspective.
Like Laura, I don't want to spoil the plot. But I definitely recommend you all pick this one up, and the series.
Genre: Historical Orientation: Gay Pairing: M/M Publisher: Loveswept Review Tag: Enemies to Lovers Tag: Part of a series An Unnatural Vice KJ Charles Sins of the Cities
Jude Sierra is a Latinx poet, author, academic and mother who began her writing career at the age of eight when she immortalized her summer vacation with ten entries in a row that read "pool+tv". Jude began writing long-form fiction by tackling her first National Novel Writing Month project in 2007.
Jude is currently working toward her PhD in Writing and Rhetoric, looking at the intersections of Queer, Feminist and Pop Culture Studies. She also works as an LGBTQAI+ book reviewer for Queer Books Unbound. Her novels include Hush, What it Takes, and Idlewild, a contemporary queer romance set in Detroit's renaissance, which was named a Best Book of 2016 by Kirkus Reviews. Her most recent novel A Tiny Piece of Something Greater was released in May of 2018. Shadows you Left, a co-written novel with Taylor Brooke will arrive spring of 2019 from Entangled Press.
Twitter: @JudeSierra
Website: judesierra.com
Instagram: /judemsierra/
Newsletter: http://eepurl.com/de5FQT